Drama: Half, Blue (English & literal title)
Romaji: Hanbun, Aoi
Japanese: 半分、青い。
Director: Kenji Tanaka, Shohei Doi
Writer: Eriko Kitagawa
Network: NHK
Episodes: 156
Release Date: April 2 – September 29, 2018
Runtime: Mon-Sat 8:00-8:15
Language: Japanese
Country: Japan
Plot
In 1971, Suzume Nireno (Mei Nagano) is born at a small restaurant in a town in the Tono region of Gifu Prefecture. She is born as a healthy child, but, in elementary school, she loses hearing in one ear due to a disease.
After graduating from high school, Suzume Nireno aspires to become a cartoonist and goes to Tokyo. There, she trains hard, but fails to become a cartoonist. She gets married and has a daughter. After experiencing financial hardship and divorcing her husband, Suzume Nireno returns to her hometown with her daughter. There, she faces an unexpected turning point in her life.
Notes
"Half, Blue" is NHK's 98th asadora.
Mei Nagano was selected to play main character Suzume Nireno after going through auditions which included 2366 participants.
Filming begins fall, 2017.
Cast
DOWNLOAD LINK
HDTV
WEEK01: DOWNLOAD
HDTV
WEEK02: DOWNLOAD
HDTV
WEEK03: DOWNLOAD
HDTV
WEEK04: DOWNLOAD
HDTV
WEEK05: DOWNLOAD
HDTV
WEEK06: DOWNLOAD
HDTV
WEEK07: DOWNLOAD
WEEK08: DOWNLOAD
WEEK09: DOWNLOAD
WEEK10: DOWNLOAD
WEEK11: DOWNLOAD
WEEK12: DOWNLOAD
WEEK13: DOWNLOAD
WEEK14: DOWNLOAD
WEEK15: DOWNLOAD
WEEK16: DOWNLOAD
WEEK17: DOWNLOAD
WEEK18: DOWNLOAD
WEEK19: DOWNLOAD
WEEK20: DOWNLOAD
WEEK21: DOWNLOAD
WEEK22: DOWNLOAD
WEEK23: DOWNLOAD
WEEK24: DOWNLOAD
WEEK25: DOWNLOAD
WEEK26: DOWNLOAD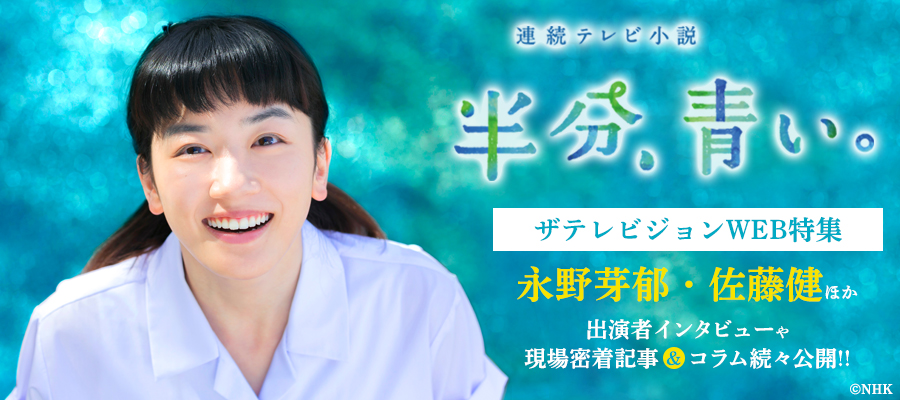 SPECIAL: DOWNLOAD
Rar pass: bagikuy
Sub Indo: DOWNLOAD
Eng Sub: DOWNLOAD
---
Mirror Download (via zxcfiles)
Mirror Download (via Kbagi)
Can't Access Kbagi? Click HERE for more info

Password (if needed) : bagikuy