Title: 名建築で昼食を
Title (romaji): Meikenchiku de Chushoku wo
Also known as: Déjeûnons dans un célèbre édifice
Format: Renzoku
Genre: Drama
Episodes: 10
Broadcast network: BS-TV Tokyo / BS-TV Osaka
Broadcast period: 2020-Aug-16 to 2020-Oct-18
Air time: Sunday 00:00 (BS-TV Tokyo) / Sunday 00:56 (BS-TV Osaka)
Theme song: Picture by Gi Gi Giraffe
Ending theme: Mijukuna Yoruso by Urakami Souki
Synopsis
Uekusa Chiaki is an architectural modeler whose father is a famous architest. He enjoys visiting nostalgic and cute buildings, and upload pictures on his popular social media account.
On the other hand, Haruno Fuji works in an advertising agency and spends every single day meaninglessly after her boyfriend left her. Despite this, Fuji has a dream of opening a cafe and tries to get some help by following Chiaki's social media account.
While exchanging messages through social media, Chiaki and Fuji decide to have a lunch together at a famous building in Tokyo.
Cast
Production Credits
DOWNLOAD LINK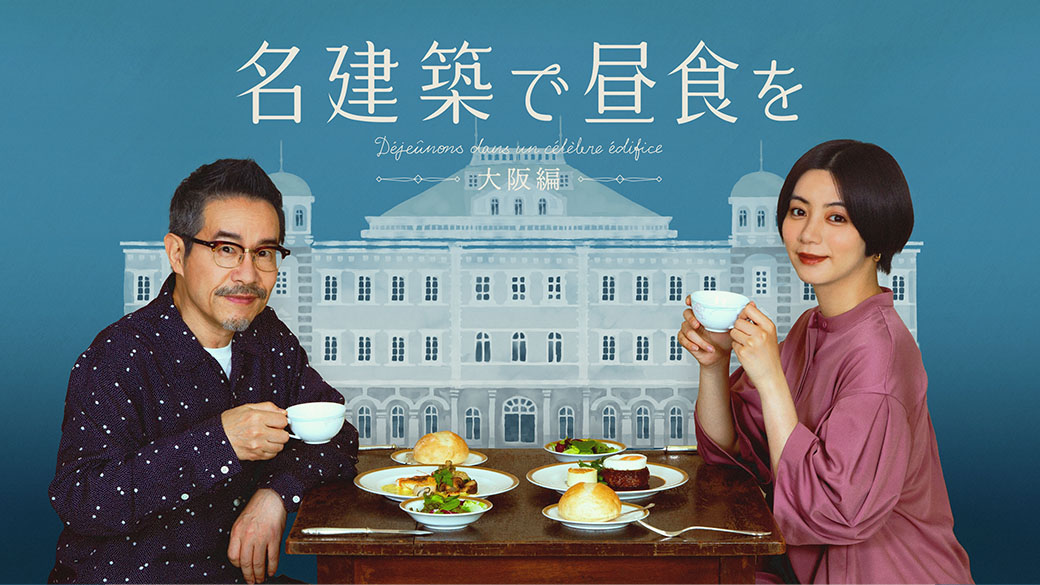 WEBDL
FHD:EPISODE01 ll Mini-HD:EPISODE01 ll SD:EPISODE01
FHD:EPISODE02 ll Mini-HD:EPISODE02 ll SD:EPISODE02
FHD:EPISODE03 ll Mini-HD:EPISODE03 ll SD:EPISODE03
FHD:EPISODE04 ll Mini-HD:EPISODE04 ll SD:EPISODE04
FHD:EPISODE05 ll Mini-HD:EPISODE05 ll SD:EPISODE05
FHD:EPISODE06 ll Mini-HD:EPISODE06 ll SD:EPISODE06
FHD:EPISODE07 ll Mini-HD:EPISODE07 ll SD:EPISODE07
FHD:EPISODE08 ll Mini-HD:EPISODE08 ll SD:EPISODE08
FHD:EPISODE09 ll Mini-HD:EPISODE09 ll SD:EPISODE09
FHD:EPISODE10 ll Mini-HD:EPISODE10 ll SD:EPISODE10
HDTV
HD:EPISODE01 ll Mini-HD:EPISODE01 ll SD:EPISODE01
HD:EPISODE02 ll Mini-HD:EPISODE02 ll SD:EPISODE02
HD:EPISODE03 ll Mini-HD:EPISODE03 ll SD:EPISODE03
HD:EPISODE04 ll Mini-HD:EPISODE04 ll SD:EPISODE04
HD:EPISODE05 ll Mini-HD:EPISODE05 ll SD:EPISODE05
HD:EPISODE06 ll Mini-HD:EPISODE06 ll SD:EPISODE06
HD:EPISODE07 ll Mini-HD:EPISODE07 ll SD:EPISODE07
HD:EPISODE08 ll Mini-HD:EPISODE08 ll SD:EPISODE08
HD:EPISODE09 ll Mini-HD:EPISODE09 ll SD:EPISODE09
HD:EPISODE10 ll Mini-HD:EPISODE10 ll SD:EPISODE10
Subtitles