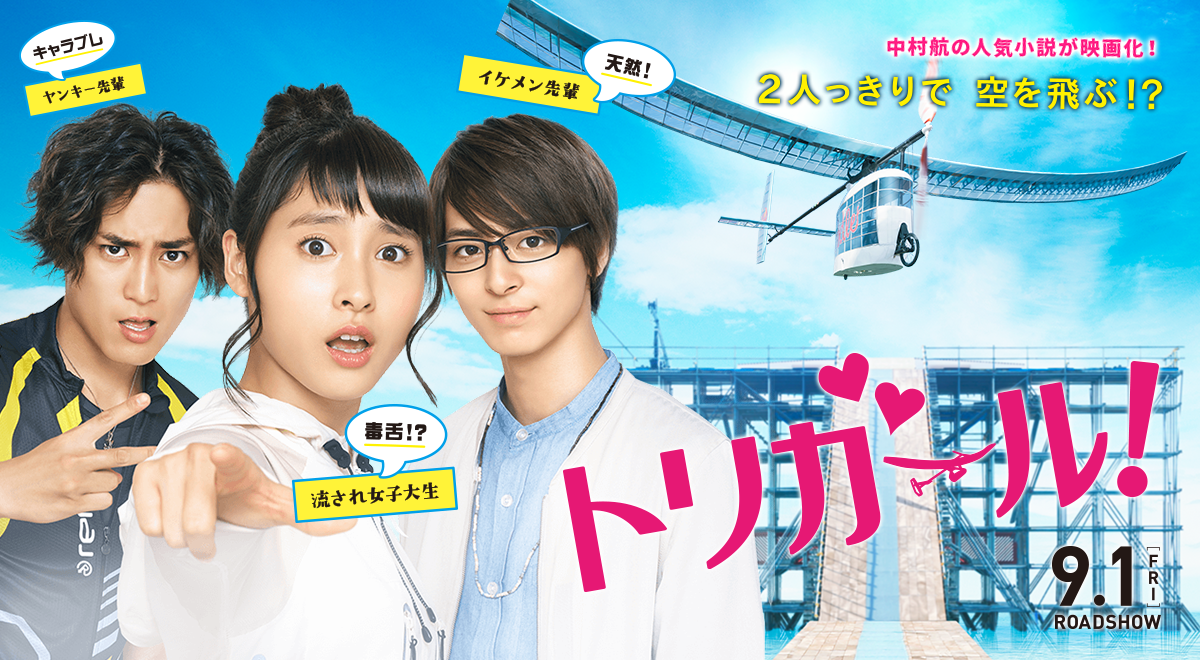 Movie: Tori Girl
Romaji: Tori Garu!
Japanese: トリガール!
Director: Tsutomu Hanabusa
Writer: Kou Nakamura (novel), Izumi Takahashi
Producer: Rikyu Ohata, Masaya Yabushita, Mari Yoshikawa, Toshiyuki Kamei
Cinematographer: Takashi Komatsu
Release Date: September 1, 2017
Runtime: 98 min.
Distributor: Showgate
Language: Japanese
Country: Japan
Plot
Yukina Toriyama (Tao Tsuchiya) enters a university of science after prepping for one year for her entrance exam. At first, she is shocked by the atmosphere at her school. She becomes attracted to senior student Kei (Mahiro Takasugi). Due to Kei, Yukina joins the "human powered flight" club. The club targets the "Tori Ningen Contest." Yukina wants to partner with Kei to fly in the sky, but she is partnered with Sakaba (Shotaro Mamiya) whom she does not like.
Notes
Based on the novel "Tori Garu!" by Kou Nakamura (published August, 2012 by KADOKAWA MAGAZINES).
Filming begins middle of July, 2016 and finishes August, 2016.
Cast
DOWNLOAD LINK
480: DOWNLOAD ll 720 x264: DOWNLOAD ll 720 x265: DOWNLOAD ll 1080p: DOWNLOAD
Best Regrads to Rerips.com for sharing file